Ilika, a pioneer in solid-state battery (SSB) technology, is pleased to announce it is leading a 16-month, £2.7 million Automotive Transformation Fund (ATF), partnering with Mpac Group plc (Mpac) and the UK Battery Industrialisation Centre (UKBIC).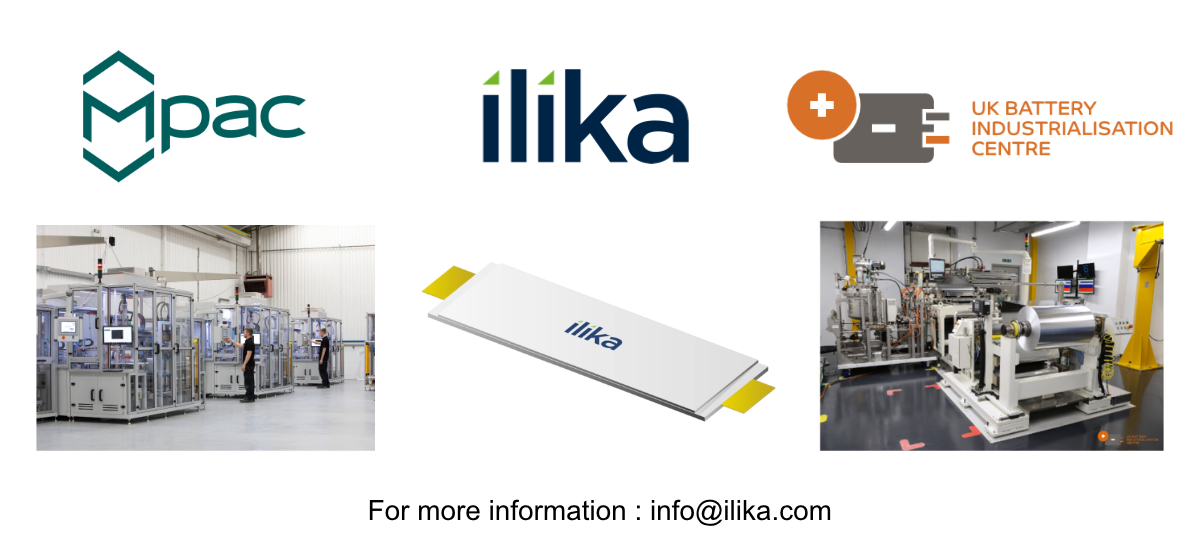 Codenamed SiSTEM and commenced 1 October 2023, the project will develop a 1.5MWh SSB assembly line capable of delivering Ilika's A-sample SSB pouch cells to automotive OEMs and Tier 1s. Additionally, UKBIC will undertake physical trials to demonstrate Ilika's SSB electrodes at GWh scale.
The UKBIC facility, based in Coventry, UK, provides the missing link between battery technology, which has proved promising at laboratory or prototype scale, and successful mass production. SiSTEM follows on from the successful BUS100 programme, which concluded that part of Ilika's SSB process could in principle take place using some of the equipment used for lithium-ion batteries (LIB) manufacturing, such as that present at UKBIC. In SiSTEM, UKBIC's formulation and coating lines will be trialled with Ilika's SSB chemistry, in order to verify the expectations from BUS100. It is indeed very important, in order to enable adoption of SSB, that the manufacturing of this novel technology can re-use equipment invested in by the LIB industry as much as possible. In fact, feasibility study SOLSTICE (a collaboration between Ilika and Comau) concluded that there exist no barrier to scaling-up SSB and that over 2/3 of the required tools already exist in LIB factories.
Mpac is a global engineering and service provider of automation and packaging solutions. They design, precision engineer and manufacture high-speed automation solutions within key sectors including Clean Energy. In SiSTEM, Ilika and Mpac will be working closely to design, build and commission the SSB assembly line which is expected to be fully operational by H1 2025. It was indeed concluded in projects BUS100 and SOLSTICE that assembly of SSB pouch cells may differ somewhat to that of LIB: this project will design the required automated tools for pouch cell assembly, which will be used by Ilika for the production of A-samples but will also be the blueprint for future scale-up.
Project SiSTEM will run in parallel with Project HISTORY, which will finalise the technical development of Ilika's prototype automotive A-sample SSBs.
The ATF is a UK funding programme created to support large-scale industrialisation. Up to £850 million of funding will be invested in developing a high-value end-to-end electrified automotive supply chain in the UK. The fund is highlighted as an important mechanism to reach targets in UK Government's 10-Point Plan for a green industrial revolution and its Transport Decarbonisation Plan.
Graeme Purdy, Ilika CEO, stated: "Project SiSTEM builds upon previous ATF support in Project BUS100 which found that with minor adaptations, Ilika's electrodes could in principle be produced in volume on the UKBIC lines. Project SiSTEM will undertake those physical trials, proving Ilika's technology can be successfully scaled. Our collaboration with Mpac will see the development of a scaled SSB assembly line which will be capable of delivering A-sample automotive pouch cells for testing in 2025. This is an important step in Ilika's roadmap, enabling us to engage closer with OEM's as we start to deliver SSB cells into their test programmes."
Julian Hetherington, Director of the Automotive Transformation Fund, said: "We are delighted to be able to support Ilika's project seeking to validate higher-scale SSB manufacturing processes and which utilises the world-class facilities at UKBIC to demonstrate roll-to-roll coating of solid state materials. SSB technologies have the potential to be transformational in vehicle battery pack design due to their stable nature and open up applications possibilities at higher safe operating temperatures."
Adam Holland, Chief Executive Officer at Mpac Group plc expressed his enthusiasm: "We are thrilled to announce our new partnership with Ilika and UKBIC after the successful award of the prestigious ATF grant for Project SiSTEM. Mpac is a market leader in complex automation, and we are eager to leverage our expertise in developing a cutting-edge innovative solution that will enable the reliable assembly of solid state batteries. This project not only demonstrates our commitment to technological advancement but also aligns with the UK government's vision for a cleaner and more sustainable world."
Sean Gilgunn, Managing Director of UKBIC said: "We're delighted to be working with Ilika on trials to support the development of the Company's solid state battery technology. Being able to scale up and demonstrate manufacturing innovation for battery technologies at UKBIC is a valuable resource for the UK's growing battery sector."
Source: Ilika Leads £2.7 Million Collaboration for Industrialisation… | Ilika